MADE IN HIGH BARNET: FLORIAN GADSBY
FLORIAN GADSBY
CERAMISIST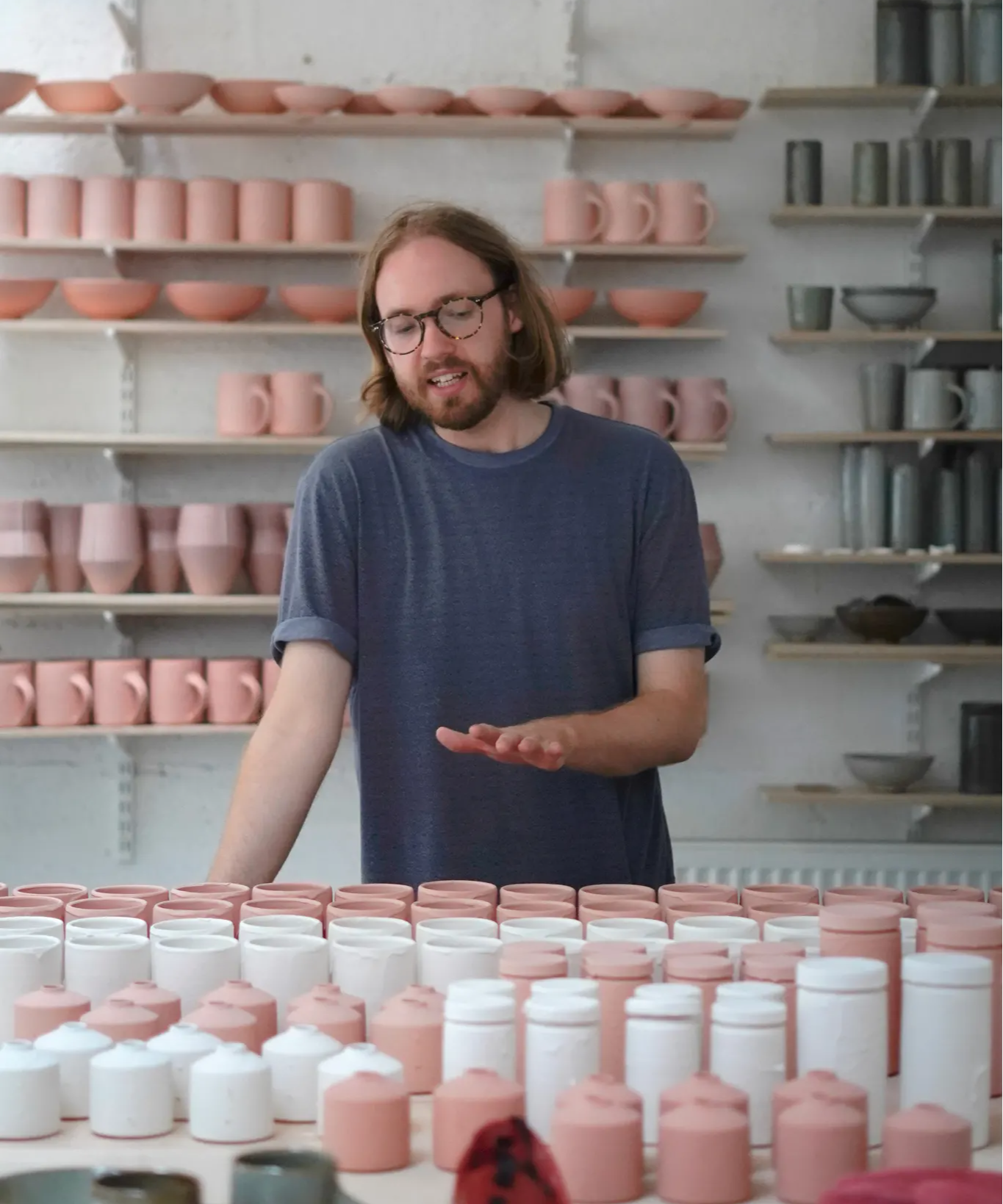 Welcome to 'Made in' - a series of features where we explore honest talent and craftsmanship right here in the United Kingdom. Meet Florian Gadsby, an accomplished ceramicist working from his studio in High Barnet, North London. Florian's work varies from tableware, to one-off decorative and sculptural vessels, as well as the occasional commission. His ceramics are largely shaped by his time as an apprentice in Japan - his work encapsulating a simple and elegant aesthetic, reflecting the skill and experience required to produce such artworks. His reputation is international, well earned due to his absolute dedication to his craft and social media presence, where his works are so beautifully showcased.
Not too long ago, our founder, Freddie, sat down with Florian in his North London studio to talk all things craft and community. Freddie recounts his visit...
On one of the hottest days of this summer, I paid a visit to Florian's ceramics workshop in High Barnet. I arrived to his studio door which was slightly ajar, soon learning upon entry why this was; I walked into what felt like a furnace. A staggering 34°C that day, it must have been closer to 45°C inside his workshop - his recently imported kiln reaching the peak firing stage (1200°C). It was about to reach its optimum firing temperature - when the gas is ready to be switched off and the kiln begins its natural cooling process. Over the next three days, the kiln would cool, allowing the glazed ceramics inside to cure. This batch being fired during my visit is one of 3 batches that Florian produces each month.
Looking around the naturally lit studio, filled to the brim with works both old and new, it was abundantly clear how years of experience and dedication have built such a huge following - all at the age of only 28. Florian's journey into craft was unsurprising to me when I learned that he had somewhat followed in the footsteps of his father Mark - who's broad career ranges from illustration, jewellery, set design, art directing, to ornately carving and enamelling wood. Florian's ceramic journey began at the Waldorf Steiner School, where he was introduced to the pottery wheel at around the age of 17. Watching his first teacher throw a vase in what seemed like a matter of seconds had him hooked; a decade on, making ceramics is all he's done since.
"working with clay was always something we did, even in kindergarten we'd dig it up from a deposit in the grounds and bake it alongside bread in wood fired ovens outside."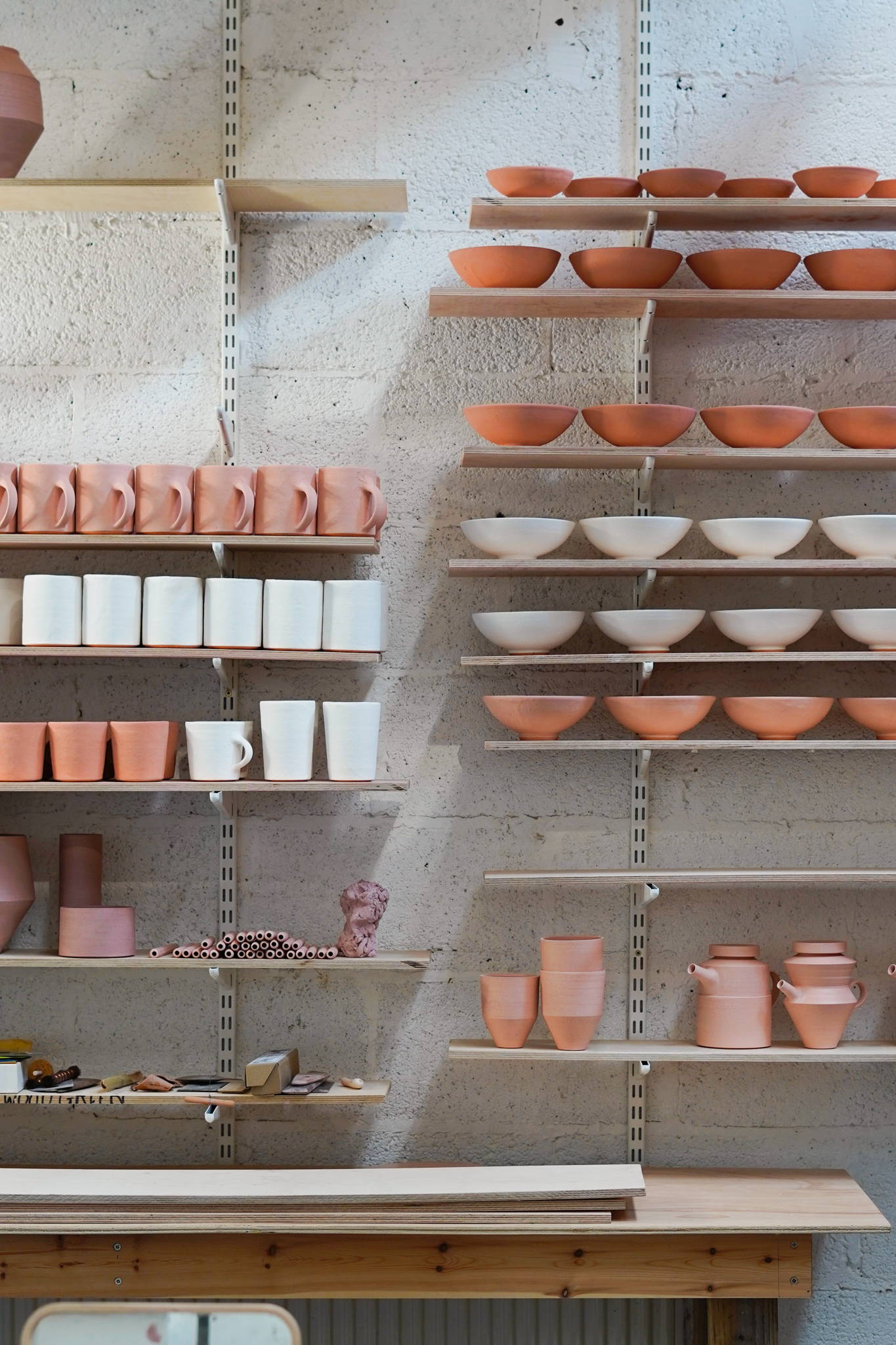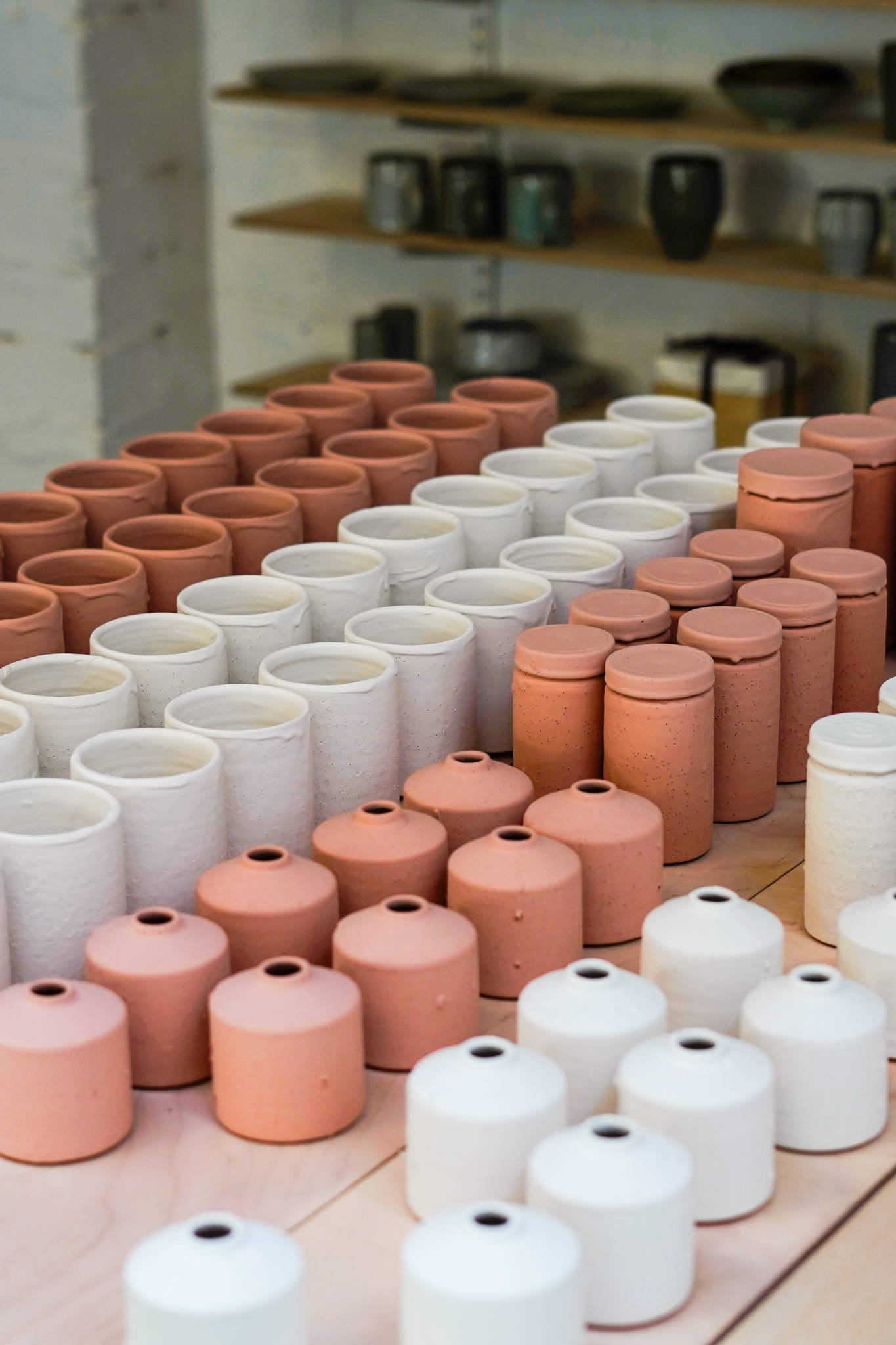 Inside Florian's Studio in High Barnet.
After leaving school, Florian went on to study DCCol Ceramics Skills and Design Training in Thomastown, Ireland where he obtained his degree. He then followed his studies with a three year apprenticeship with Lisa Hammond at Maze Hill Pottery in Greenwich, London. This is where Florian would learn the art of soda firing from Lisa - a technique whereby the kiln is opened at its optimum firing temperature and a boiling solution of bicarbonate of soda is sprayed onto the ceramics. At that moment, the water bellows upon touching the surface of pieces inside - turning rapidly into glass, giving each piece a unique mottled surface texture that many of us know and love.
His passion and skill for the craft soon recognised, Florian went on to become a visiting apprentice
under master ceramicist Ken Matsuzaki in Mashiko, Japan under Lisa's specialist introduction. It's usual for an apprentice under a Japanese master ceramacist to study for ten years with restrictions on their personal lives outside of the ceramic studio. Florian, noticed for his devotion, was accepted to study as an apprentice for six months, observing Matsuzaki at work and keeping up with housekeeping of his studio. It wasn't until the latter months of his apprenticeship that he was welcomed to throw for himself; here he learned how to use the traditional Japanese kick wheel to make Matsuzaki's distinct shapes, as well as 'oribe' and 'shino' style glazes and how to fire them. Florian would produce his first volume of work there which he shipped back to the UK, with enough to eventually sell and make enough to fund the continued exploration in his craft.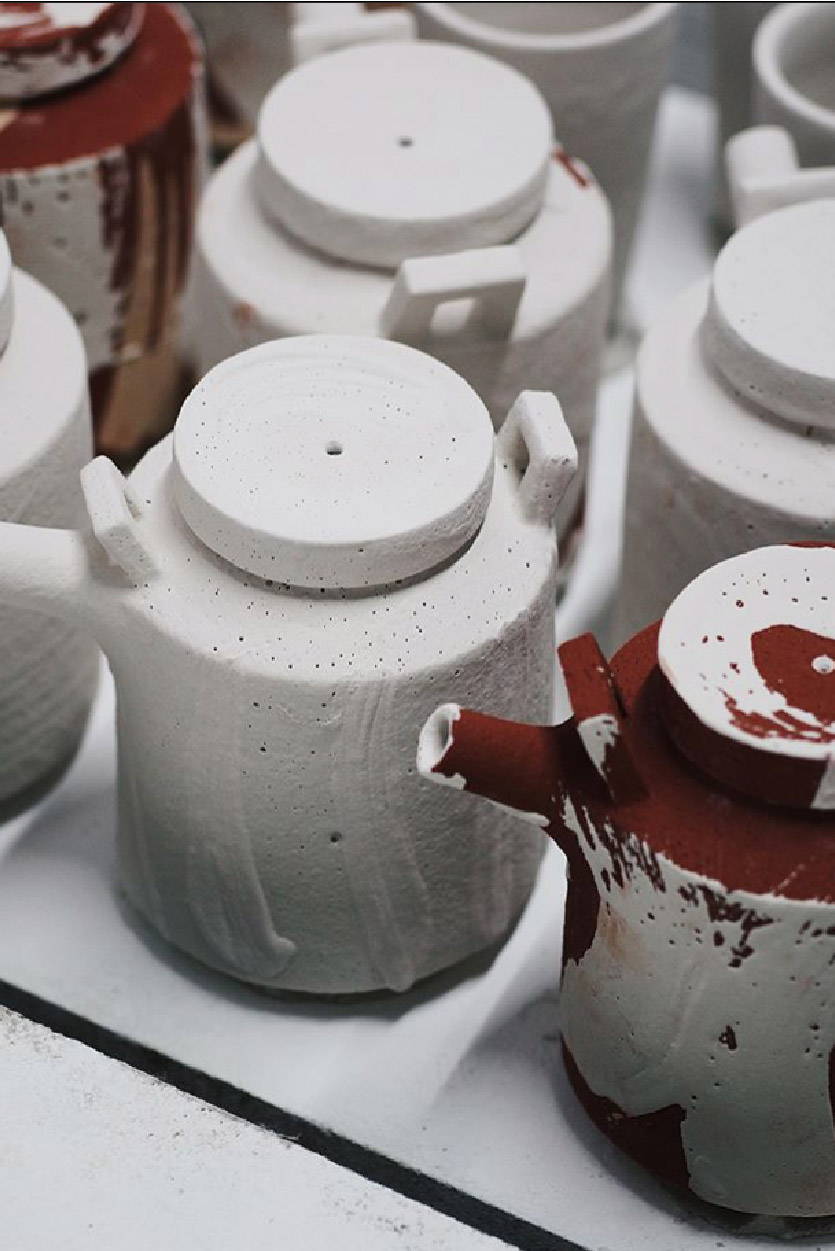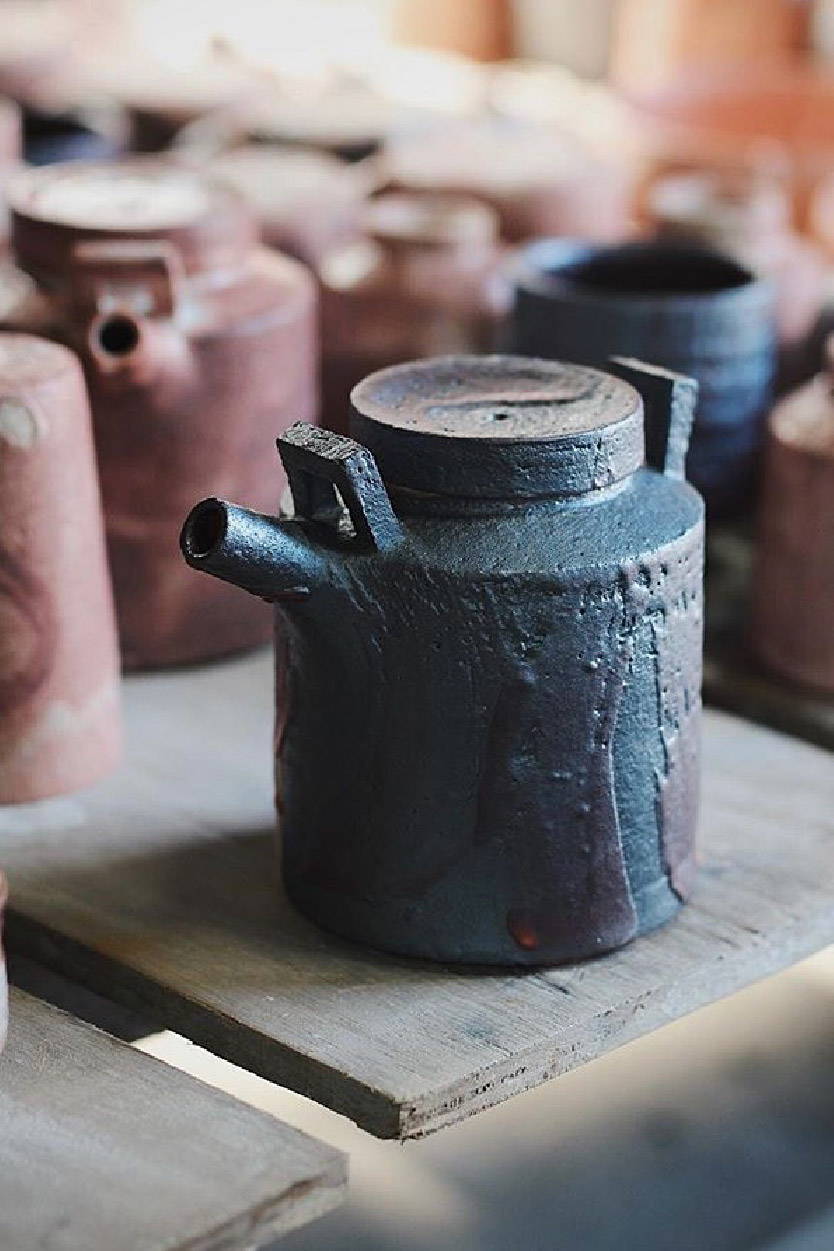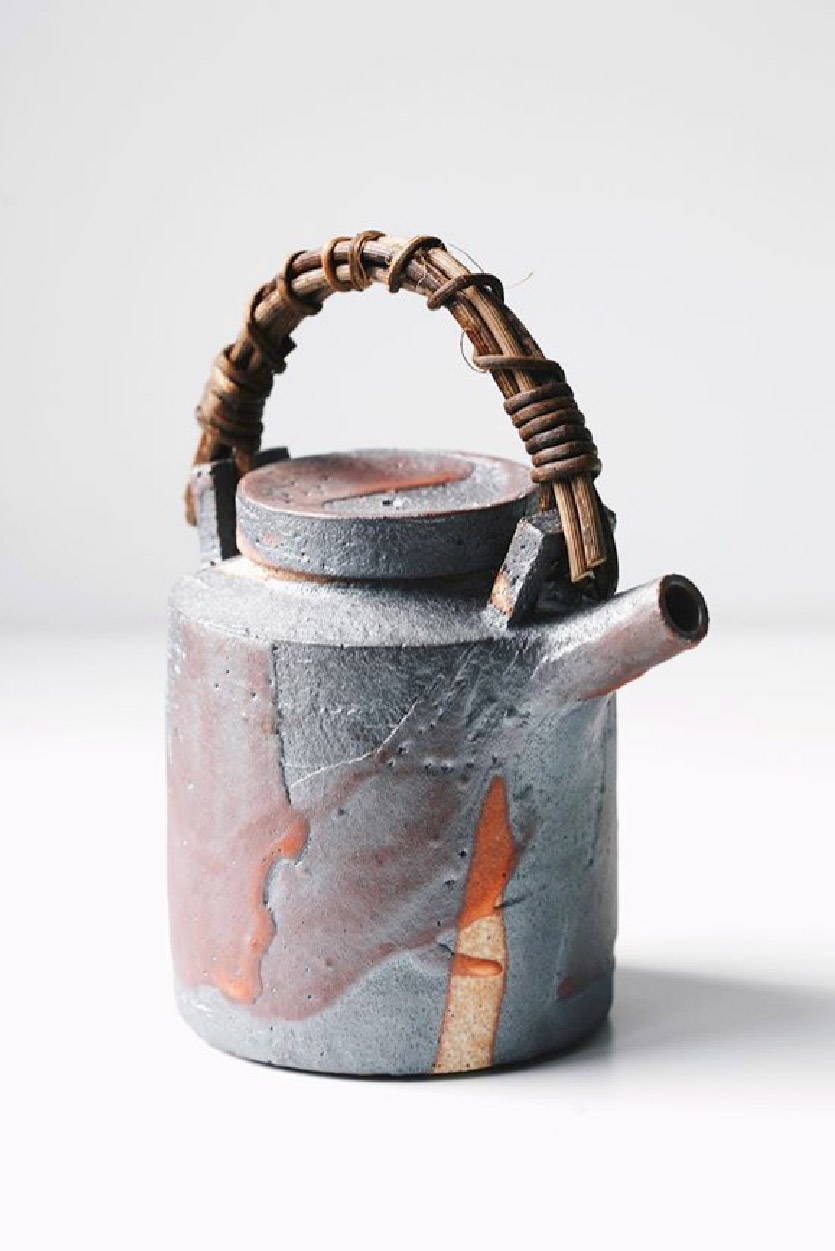 Tradition Japanese techniques
"I USED INSTAGRAM as means to keep family and friends informed about what I was up to during my apprenticeship, which very quickly began to amass an audience of potters. From there, it has grown exponentially over the past six years"
Those of you that know Florian, will know that he uses Instagram as his primary channel to showcase his works-in-progress and finished pieces, giving an inside look at each day of his journey. His feed is beautifully curated yet has a realness to it that feels warm and welcoming, with each post accompanied by a beautifully detailed description of his process. He explains how over time he, "started to write more and more about the processes involved in soda firing in particular, as that's what I was learning to do with Lisa. People seemed genuinely interested from all over the world and as people read and left kind comments it has only spurred me on to do it more so." Even after six years of posting, he still has so much to talk about,
"it's amazing how much variety you can draw out of the craft. Especially when you bring in your own narrative, thoughts and philosophies." The narrative of Florian's posts is important, requiring meticulous planning and dedication to a different type of craft. Contrary to most designers with a social platform, Florian shares the good, the bad and the ugly - he shows his making process, techniques, and even his mistakes, allowing his viewers to see that craftsmanship and design are never completely smooth processes, even with years of experience under your belt.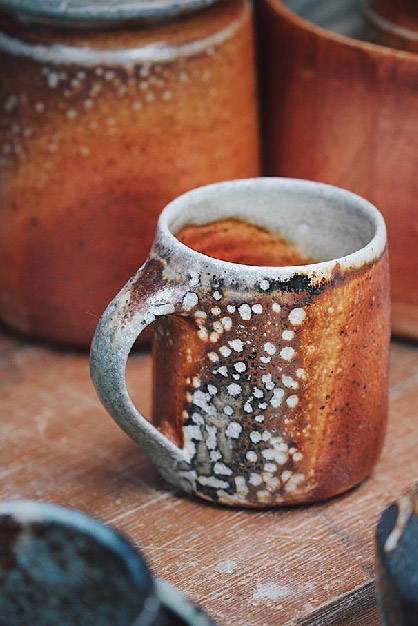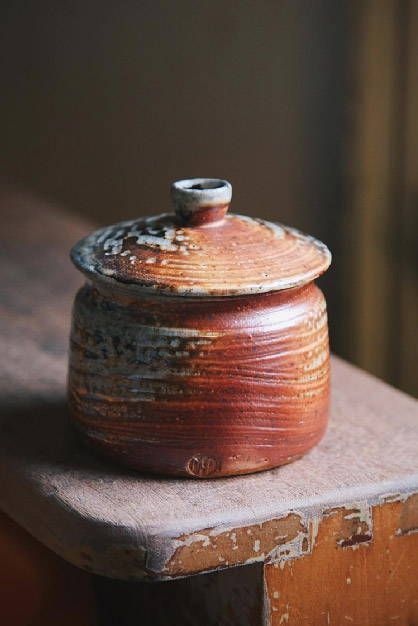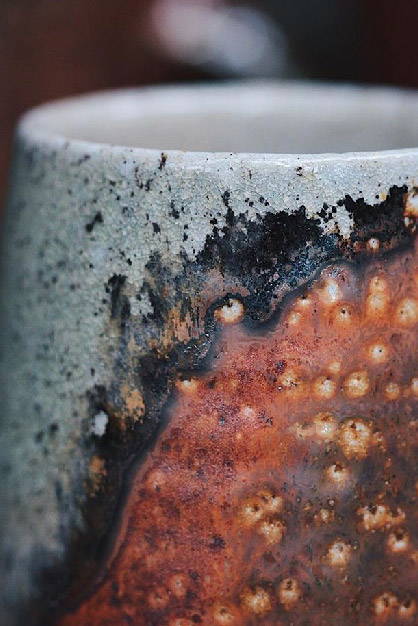 Florian's finished soda fired pieces
Florian draws his inspiration from a variety of places, being particularly fond of ancient Chinese pottery, especially Longquan pots and ancient Kuan (Guan) wares, which have influenced his work ever since he saw them in the vast ceramics collection at the V&A Museum in London. He admires their simple, elegant designs with subtle glazes and colours, dating back as early as 950 AD. He adds that there is a whole "plethora of potters who [he] aspires to, such as Rupert Spira, Anne Mette Hjortshøj and Lucie Rie, of course" a distinguished ceramicist in the 20th Century whose works are known for their modernist forms and bright colours; she serves as an inspiration for many modern ceramicists.
Florian's design process involves great precision and planning; he knows exactly what he's going to produce from the moment he opens his bag of clay, knowing how much clay is needed for each item. His favourite works are his bowls, explaining that he finds their simplistic forms "forever intriguing."
"I'm not one of those potters who finds joy in throwing a ball of clay into whatever it feels like, I'm the one in control."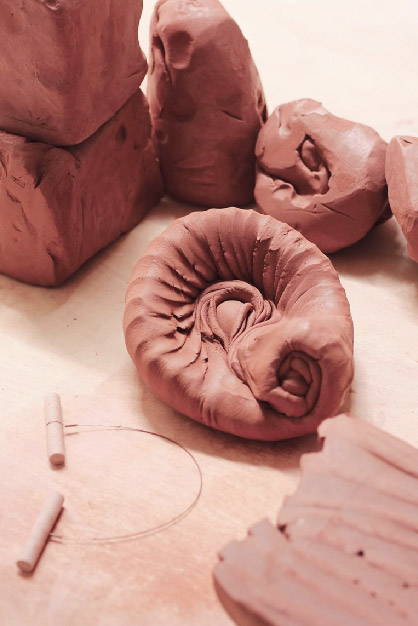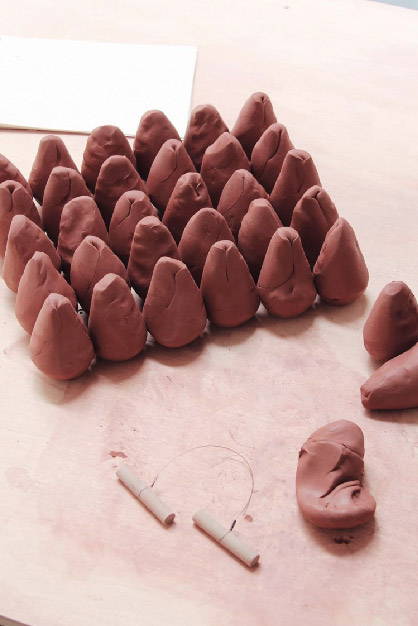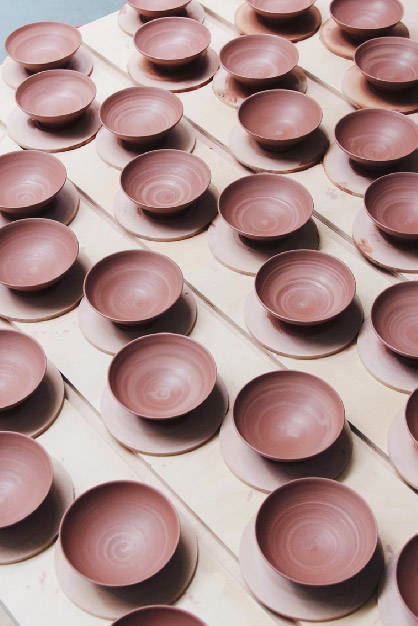 Stoneware clay, weighed out ready to be thrown and boards of freshly made bowls
His ceramics can be considered artworks in their own right, yet, there is a balance between creativity and functionality. Florian makes objects that he can imagine himself using and living with. Some end up being more practical than others, but he's always been drawn to delicate ceramics. Though his pots have humble beginnings, it can be a complex process to transform them into the finished product. Florian comments how a lot of people don't quite get how many firings you need to do which is understandable.
"It's bizarre that pinks can go green and things that are completely matte turn glassy. It's still very weird opening a kiln of very shiny pots when you've had them like this for months". Florian has a few ideas for future projects involving collaborating with other craftspeople, too. He believes there is a lot of potential in creating combinations of materials that haven't yet been truly explored ... works of art and functional objects that combine ceramics, woodwork, metalwork, textiles, glass blowing and more.
Trimming sides of small bud base
"There's something quite surreal about taking a material that is literally mud, stone and metal and turning them into objects that have qualities that are opposite of those, pieces that are highly valued and treasured due to the craftsmanship behind them, yet they've literally started their life out as clay at the bottom of a riverbed."
Florian wears our Kallio Medium Spectacles in Dark Havana.
Here's what he says about them:
"I like the combination of curve and line in the frames. I make pots that are curved but mostly they have straight sides too. The Kallio frames seemed like an interesting combination and not something I've seen before, so it had to be them".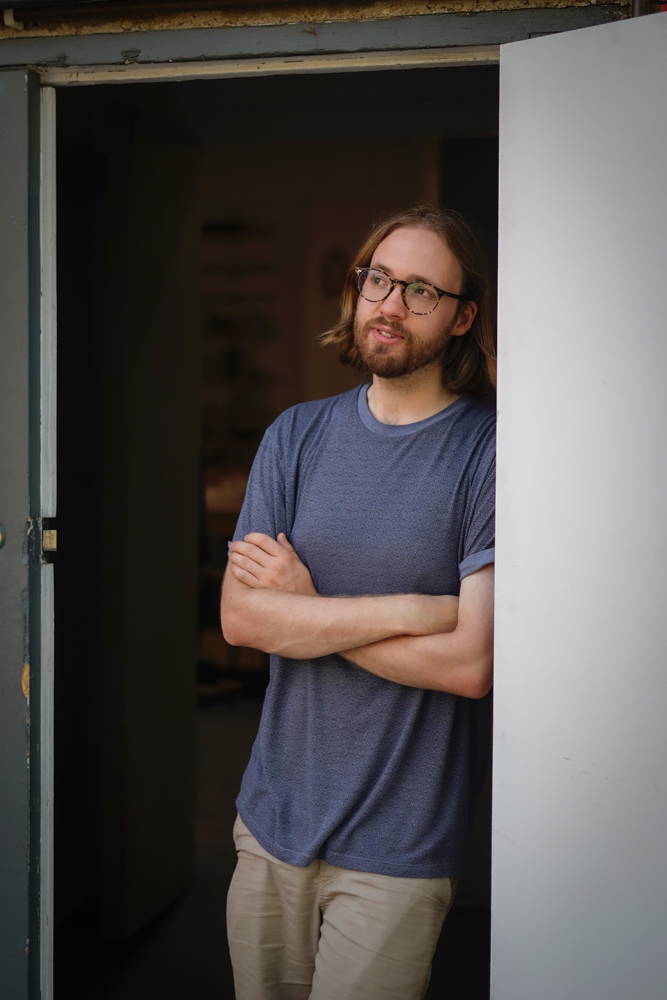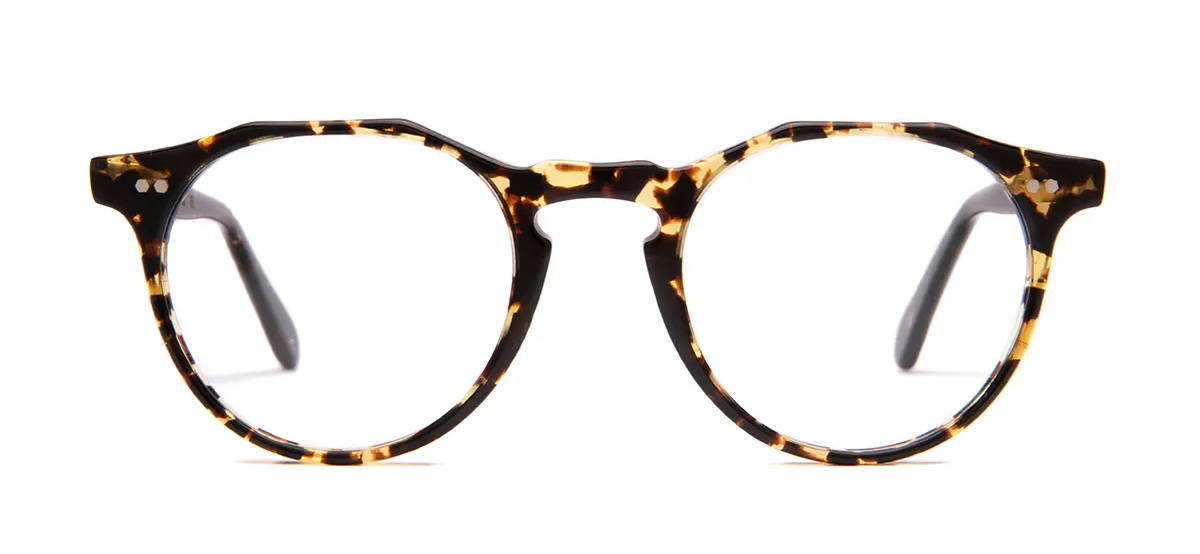 Our Conscious Collection is made from bio acetate - a material sourced and made in Italy, from sustainable plant cellulose from cotton and wood pulp, which means that no toxic chemicals are released when it bio-degrades.. Sustainability is a prevalent issue for designers and businesses alike; however, negatively impacting the environment can seldom be avoided.
Florian makes an effort where he can to reduce his carbon footprint, be it cycling to work or making a conscious effort to minimise his waste. "I obviously want to help the world as much as I can, which is a difficult thing to say when making pottery and frankly the world doesn't need anymore tableware. Yet, if I can stop someone from purchasing mass produced wares that are shipped in containers across the oceans then it does make me feel a little better." He reuses as much packaging as possible and only uses recyclable or biodegradable packaging to ship his pots. The majority of his clay is sourced from Northern Ireland, but he explains how in the future he'd "love to be able to source more local materials ... and then in the long run dig some of my own clay and glaze materials."
---