In The Frame: Janet Newman
Welcome to 'In The Frame' - our monthly feature of inspiring individuals.
This month we're delighted to introduce you to Janet Newman of the women's silk-wear brand Phoebe Grace. Phoebe Grace was started by her daughter Phoebe, but passed onto to Janet after a heart transplant in Papworth hospital transformed her life and led her to create her eighth collection 'Hearts'. Hearts will donate a percentage of revenue to Papworth hospital when it's released in Spring of 2021.
We met Janet inside her studio in Peckham, to hear her story: why she doesn't follow the fast nature of fashion and how art has been the most important creative medium in her life.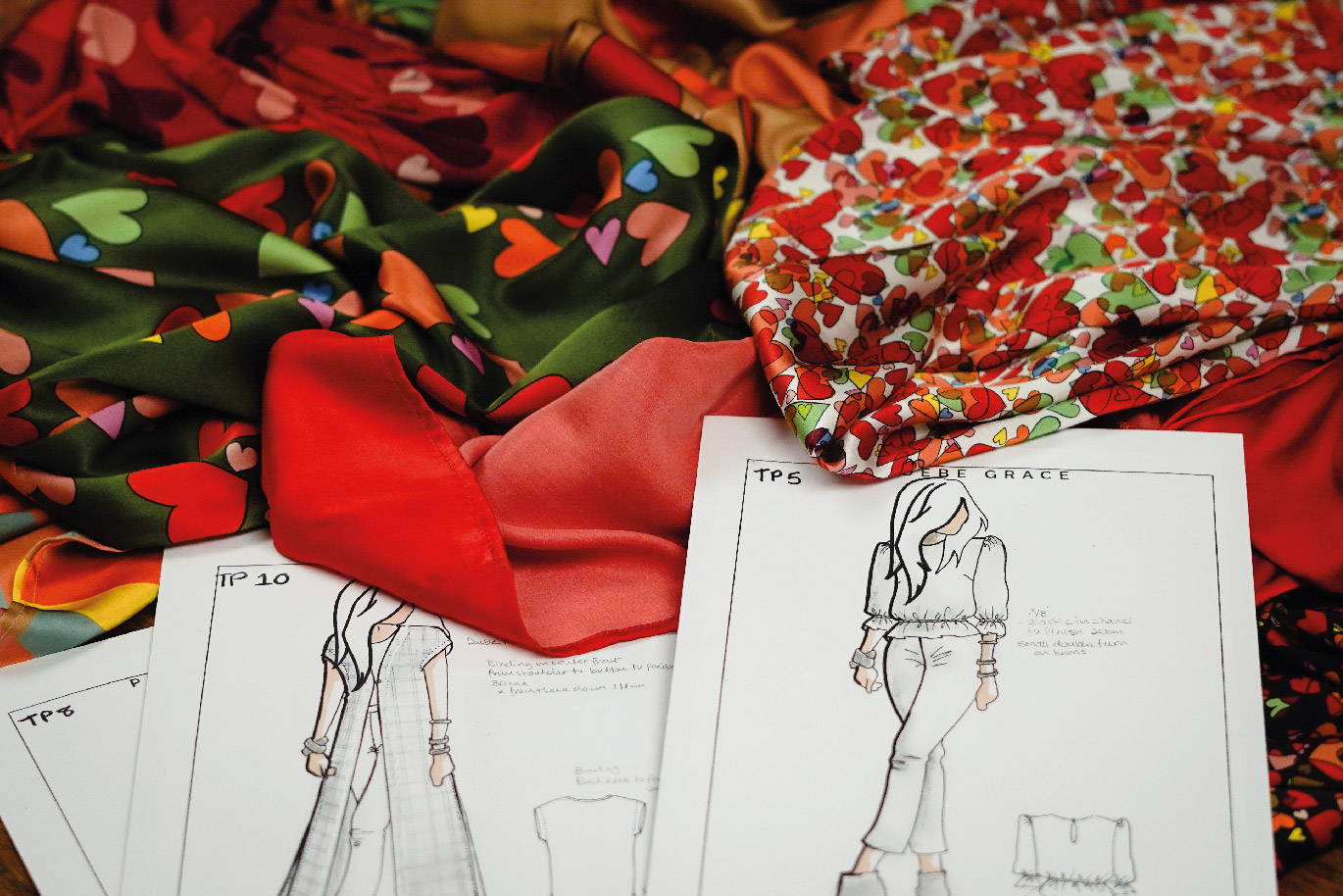 For those that haven't heard of Phoebe Grace before, could you give us insight into the brand?
Phoebe Grace was inherited by me. In its inception it was more of a creative project by my eldest daughter, who designed the most beautiful prints. About three years ago, both of our life circumstances changed; I suddenly became able to take the business on while my daughter went on a different adventure in the film industry.
I suppose defining Phoebe Grace is difficult because it has evolved over time.  It's predominantly silk-wear, but we are starting to incorporate different materials, with a heavy focus on sustainability and prioritising materials that are kind to our planet. What is integral to our brand, and I guess is truly the 'defining' part of Phoebe Grace, is our prints, which are all designed in house, by myself.  That part will never change.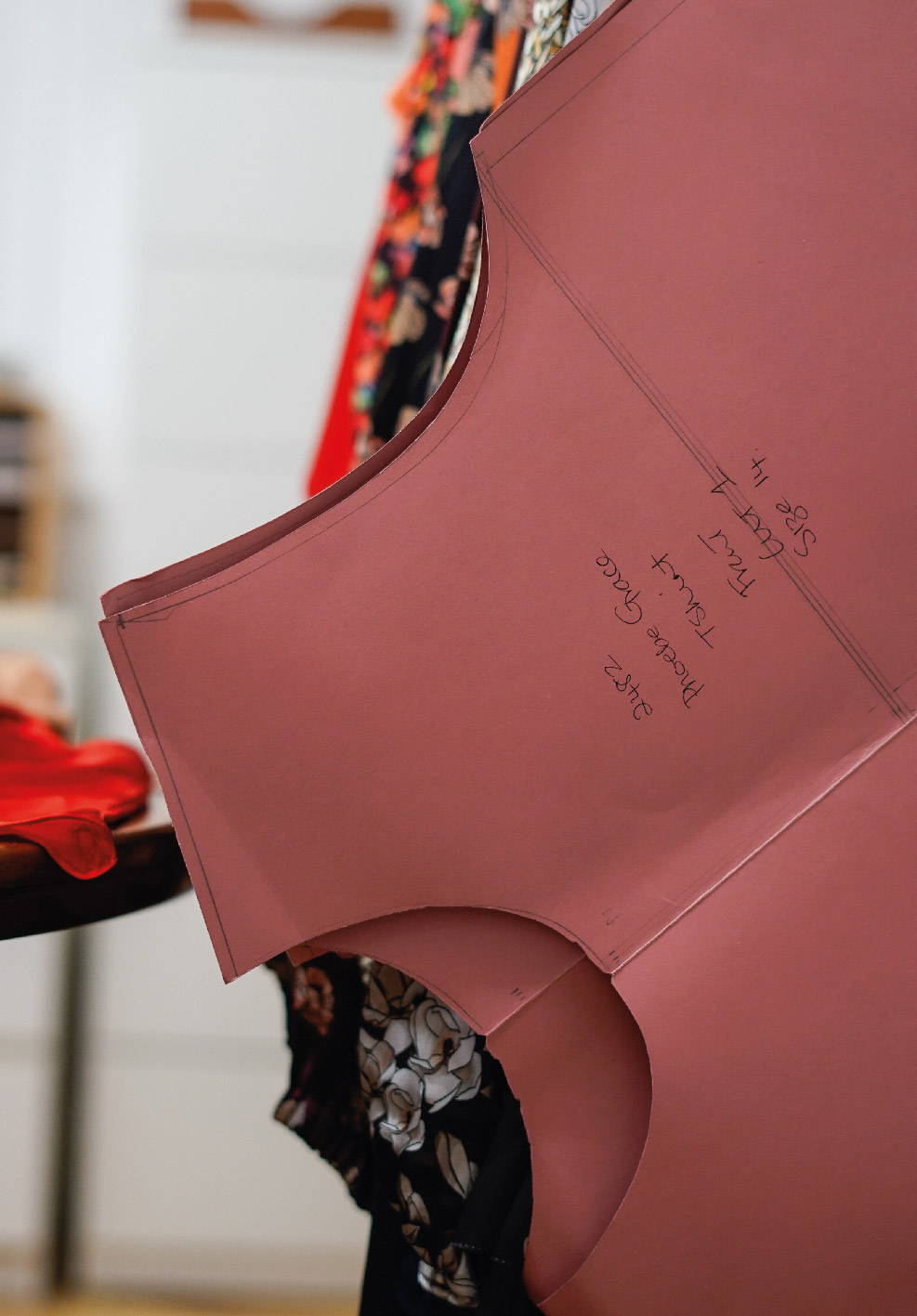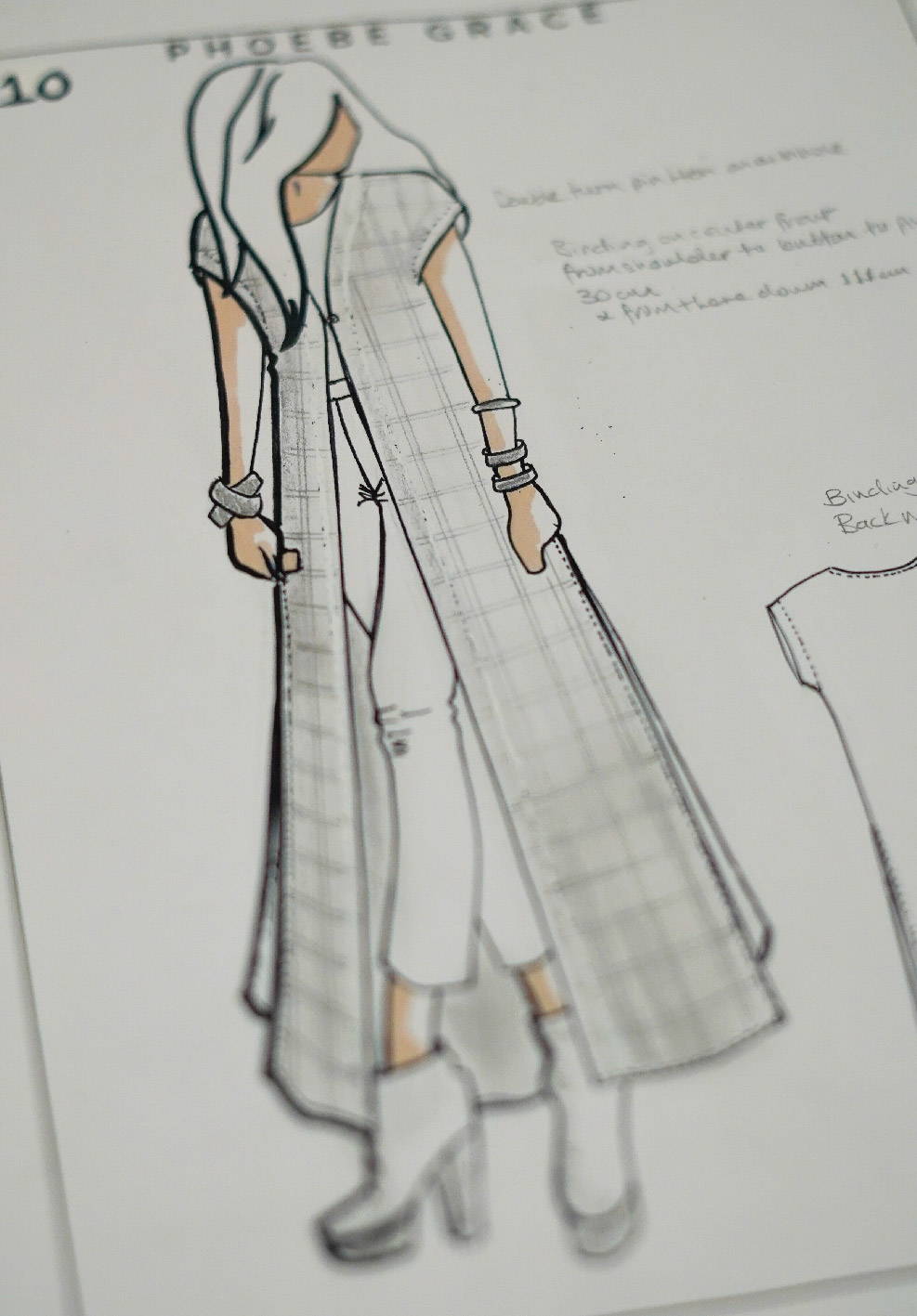 Janet is hands on through every element of the process, including regular visits to the factory during the production of each collection. All pieces are made in the UK from British silk producers and factories, where mindfulness and transparency are are key in having complete clarity and control between herself and the makers. Together, they bring her designs to life in the form of expertly crafted women's garments and accessories.
Who is the type of woman that wears Phoebe Grace?
Without sounding too 'cliché', Phoebe Grace is for literally everyone and anyone.  My brand is incredibly popular with 20 somethings and 30 somethings, but equally popular amongst those in their 40s and 50s.  My eldest client, Ethel, just turned 90!
A really important aspect of Phoebe Grace is that it moves and changes with the times (although purely organically), and I think that is reflected in the development of the brand – we now have a far wider range of sizes and accommodate to several different body types – our clothes are not just made for the models you see on the runway, because that's not always realistic!  I make a conscious effort to make something for everyone with each collection, be it in terms of colours, prints, or the cut of the piece.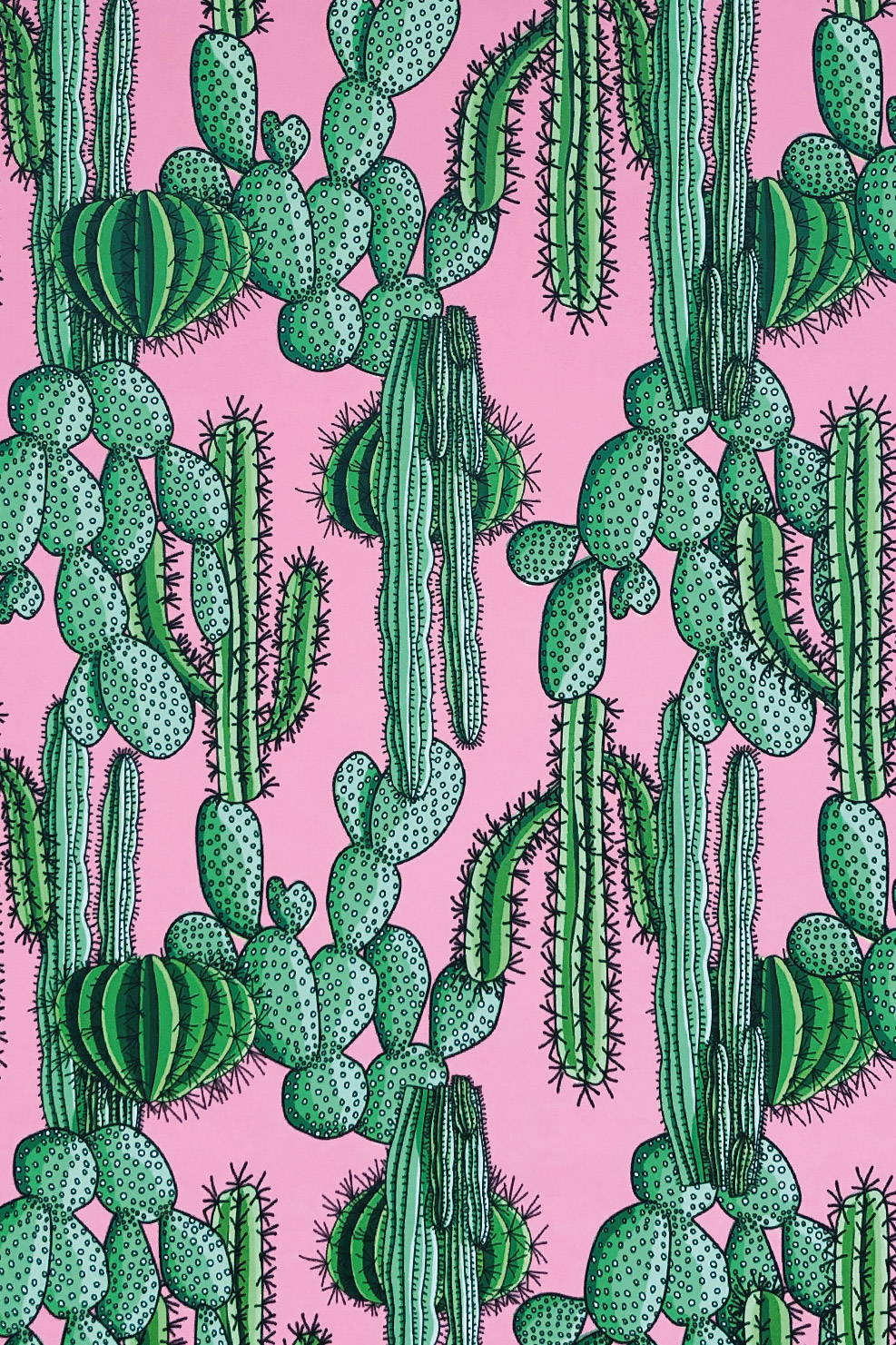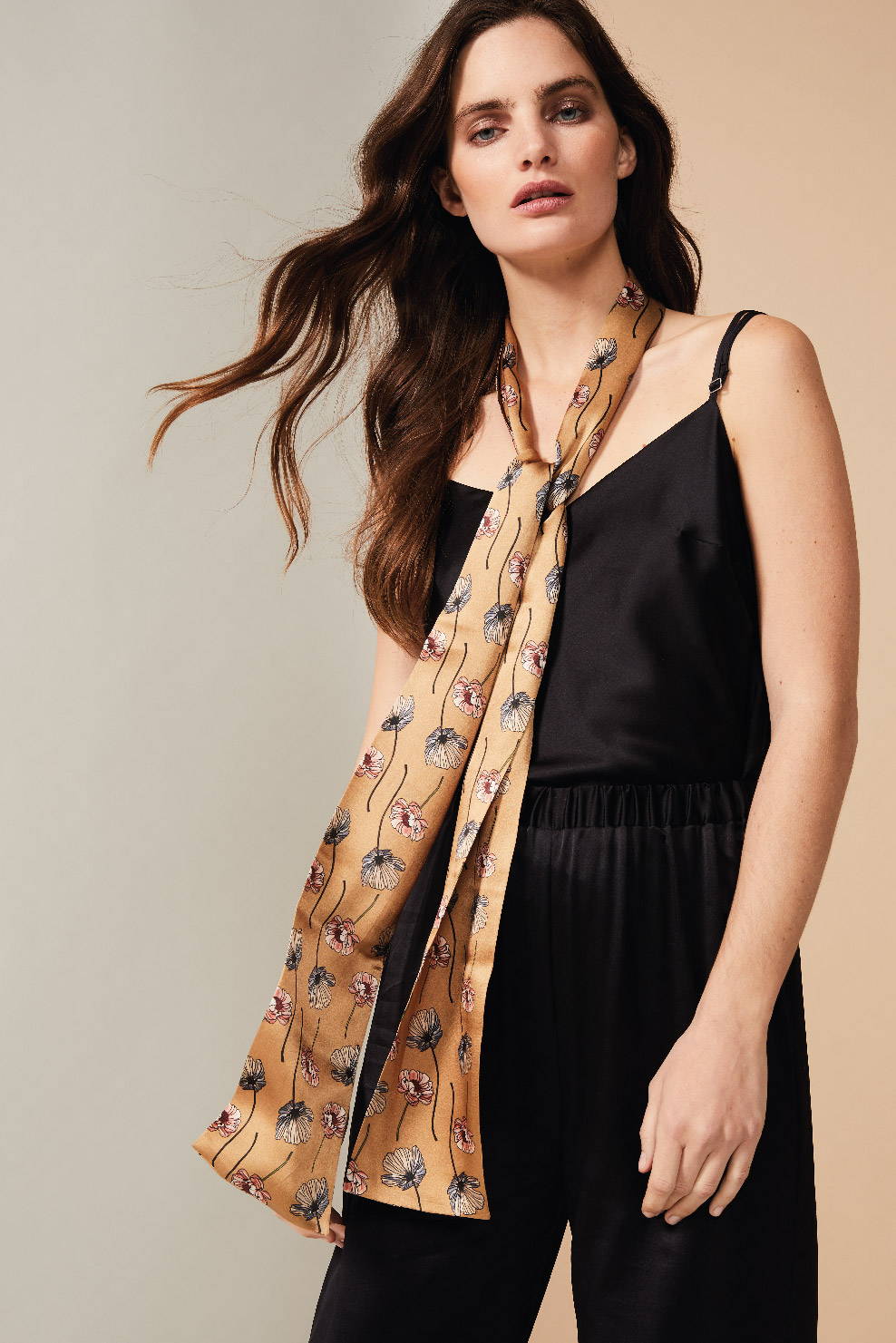 Is Phoebe Grace inspired by your own style?
It's definitely inspired by my love of prints and artistic values as I'm an artist by trade.  My fashion has always been slow, luxury fashion, that tends to have a relaxed fit, hence why we use a lot of elasticated waists, because let's be honest – if it ain't comfy, we ain't wearing it!
However I think we are all guilty at times of throwing on an all-black outfit (or any dark colour) out of ease or comfort, I think that's why Phoebe Grace is so great and has been so successful, as most of the pieces can be easily integrated into the 'average' persons wardrobe. My go-to outfit is a pair of black trousers with our Nancy shirt, or on a different day I might throw on our plain Jane skirt with a black knit.  
Janet's pieces represent sophisticated femininity with a hint of playfulness. The first prints Phoebe Grace developed feature cacti cartoons with the sun providing an exciting brightness to the silk which gives each piece a unique character.
Where does your inspiration come from?
I am fortunate enough to have spent a lot of my life travelling, so lots of my inspiration comes from my travels and the cultures I have experienced abroad.  Alongside that, being an artist I am very much in tune to my surroundings, so most of my inspiration comes from England's nature – in particular, our beautiful trees - Im obsessed with trees!
However, there are also more personal elements that I draw upon. Looking forward to 2021, my collection has a heavy focus on hearts, which are, for several reasons, emotional and personal to me. When that collection is released I will explain more on the meaning and background to them, but stay posted on that!   
"Life is about doing the things you love."
In 2015 Janet received a heart transplant, operated by doctors of Papworth Hospital, Cambridge. After many years of complications, the team at Papworth helped give Janet and her family a new life. She took the reigns of Phoebe Grace less than a year after her procedure, and the brand has been growing successfully ever since.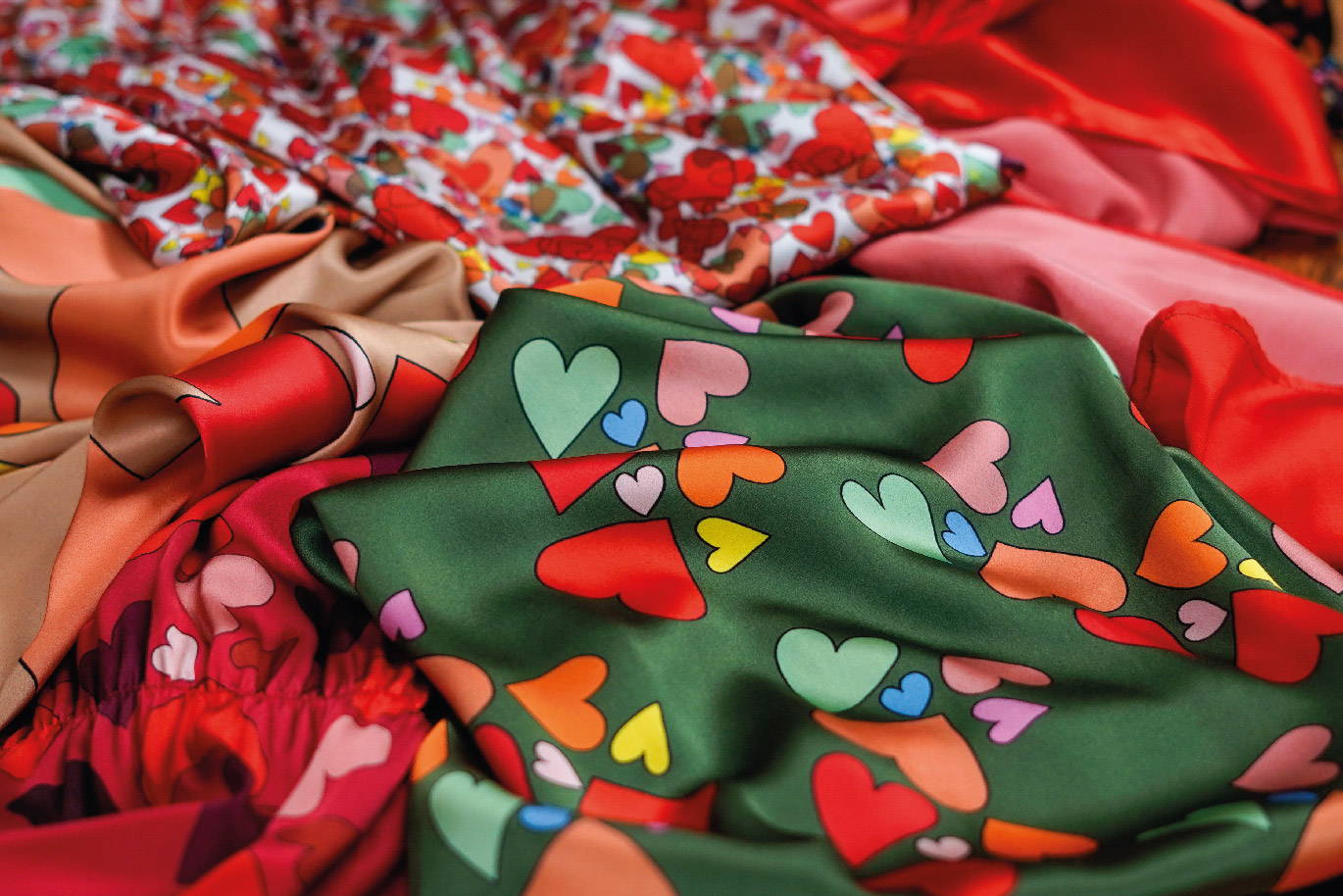 How do you go about designing new prints?
It all starts with an idea - something beautiful, and maybe because I'm at the nascent stages of my brand, I don't really struggle with coming up with the prints, as I have so (so) many ideas.  Nature is all around me, and as I mentioned, I take huge inspiration from it.
After I decide my print, I think it's really important just to be creative with them – yes, I have deadlines and I have deadlines for collections that need meeting, but I really make sure I honour that creativity and spend as long as possible playing around with the colours, ideas, shapes and sizes.  I then order lots and lots of samples in different fabrics (more on that later!) and send confirmation to the factory.
Alongside the print making comes the pattern drawing and cutting (pattern meaning the shape of the dress, not the pattern of the fabric!). This part of the process takes a little bit more time because I won't accept anything less than perfect.  We have an amazing new pattern cutter and manufacturer, so the turnaround is a lot quicker than it used to be. We've struggled with finding a niche with the right person, but we have found our match at last, we have honed our skills in that department and I think it shows in our new collections.
The crème de la crème of this process, and the most exciting part of my job is seeing both the prints and the actual pieces combining for the first time. When you see the final product on someone (it tends to be my youngest daughter as she hasn't left home yet!), all the hard-work and frustration that came before instantly becomes worth it.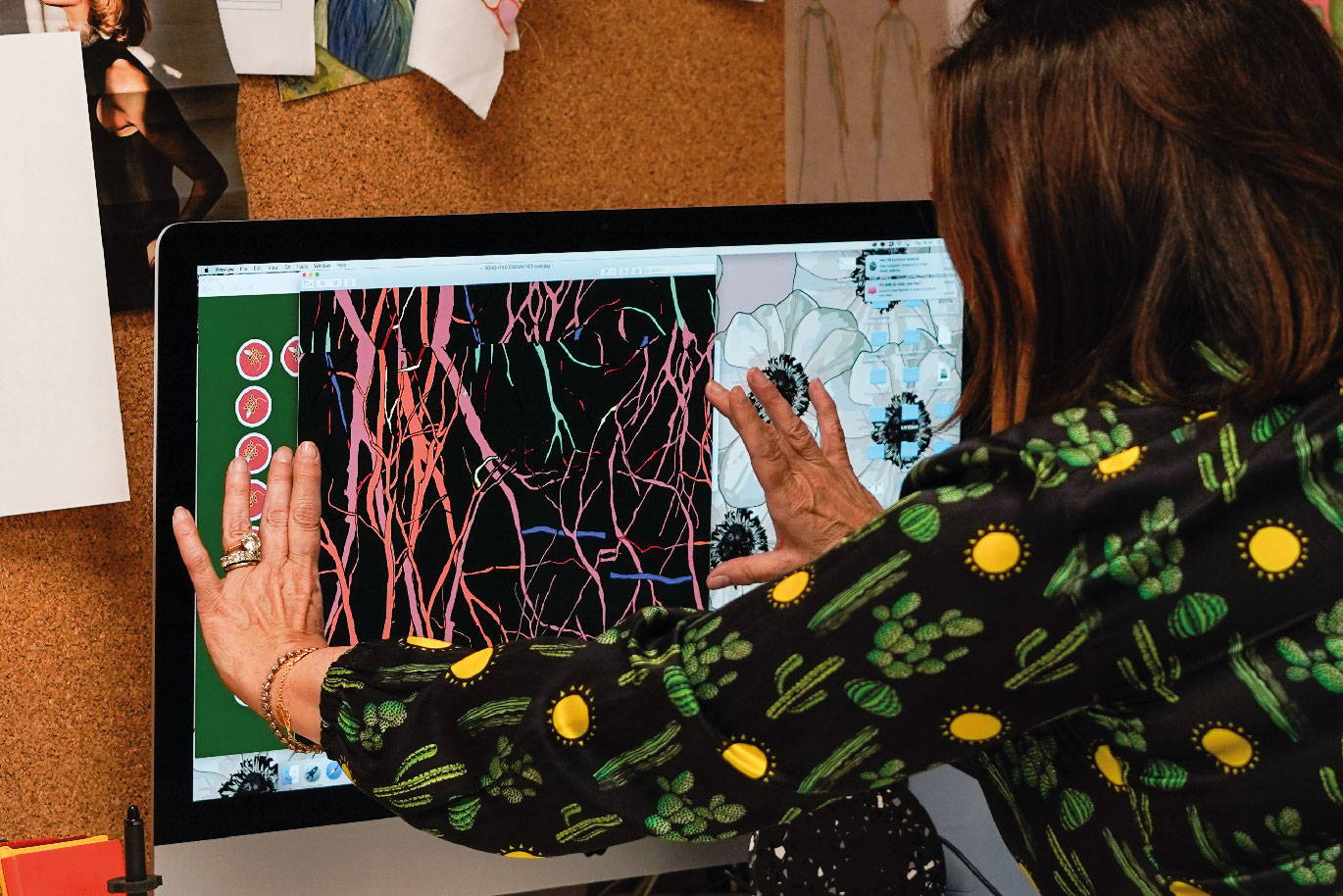 What is your favourite piece to wear from Phoebe Grace?
This question is like asking me my favourite child! If I had to, I would choose our Plain Jane Skirt, and that's because not only is it the most versatile, but it fits like a glove on anyone who wears it.  That's my go-to.
Who would be your dream person to wear Phoebe Grace?
If we're being honest here, I would love to see Harry Styles in one of our shirts, he would rock them! He's so flamboyant and daring with his fashion choices, and would be our perfect ambassador! In general, I think we'd like to see more men wearing prints in the future!
Will you focusing more on sustainability in the future, if so how?
Yes, definitely.  We are so aware of the global climate crisis, and are conscious not to add to the problem if we can possibly avoid it.  Having said that,  we definitely aren't perfect and we are learning on the job, which is all we can do. In 2020 we are integrating a recycled material rPET into our collection, which is made from recycled plastic bottles.  The material is just as comfortable and luxurious, making it equally as affordable as our silk. Our main obstacle is that we are dependent on new materials to be developed by manufacturers. When more materials become available, we will use them – sadly it is a bit of a waiting game. Eventually we would like to enter a closed loop with our materials.
We have some already-existing sustainability in place. We make all of our scrunchies and notebooks out of our end cuts, we will be making small run designs from end of roll silk this summer and reusing material from our mistakes!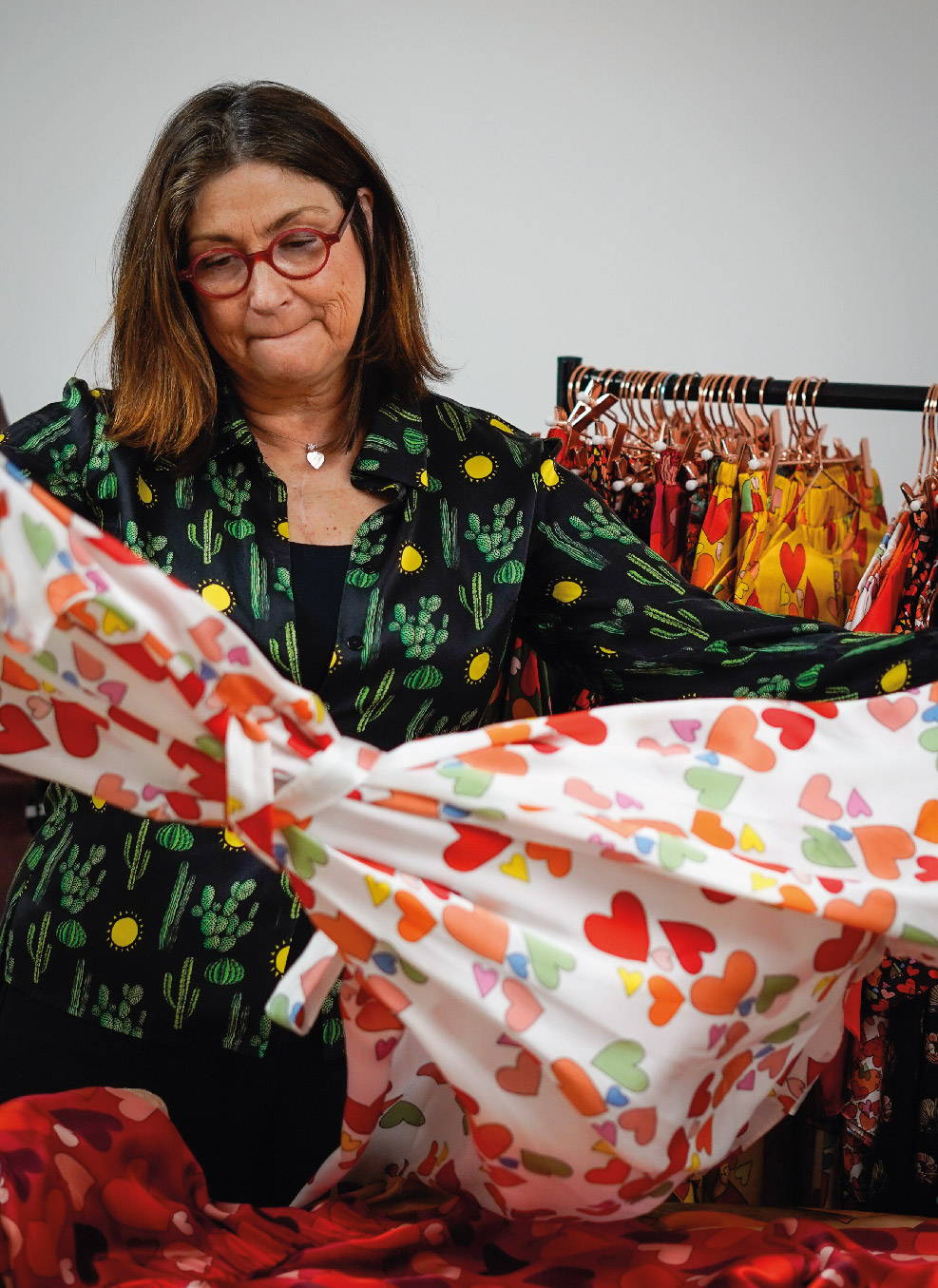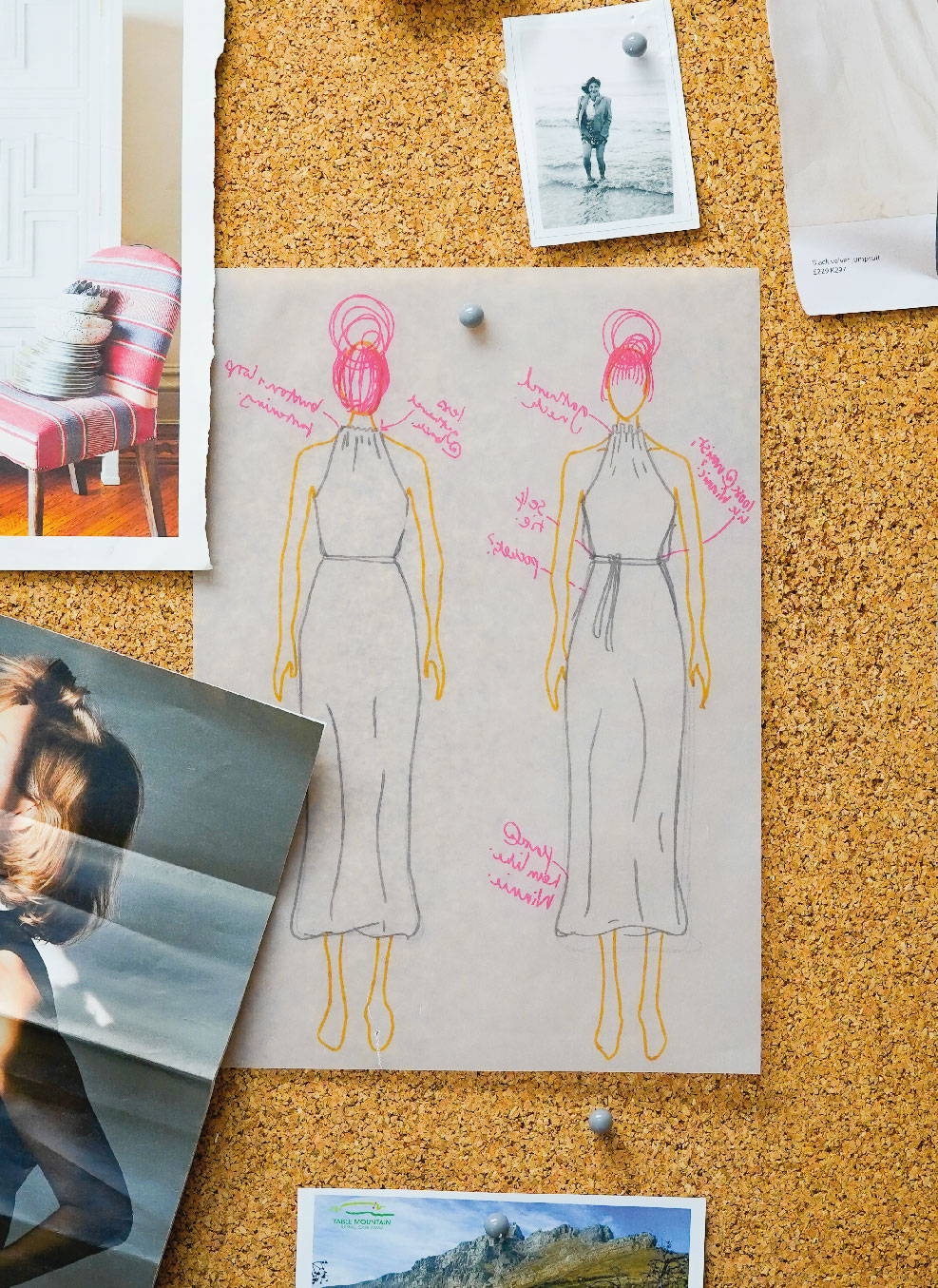 Would you rather choose style or comfort?
I'm going to be cheeky and say that you definitely don't need to choose one or the other! We definitely don't – as I said before, if it isn't comfortable, I won't wear it – so why would I sell those sort of items?
When can we expect a new collection? What can we expect from it?
Spring 2020 is going to be simple and fresh, with more tailored fits.  In addition to our new prints, we are using end of roll silk to create more bespoke, small-batch creations, that will continue into Autumn/ Winter and will keep that going in the future, too.  My end goal is to have no distinct collections, but rather keep supplementing my already existing collections with new special pieces throughout the year.
And…. we have something exciting in the works. We are going to be making interior items soon– watch this space!
We're delighted to say that Janet wears our Løkka Spectacle frame in Matt Poppy Red as pictured below. She is also a proud owner of our Grácia and Södermalm Spectacle frames.
"I originally bought this frame to wear as sunglasses but I couldn't as I loved the look of them so much I wanted to wear them everyday. They make me look young and I feel trendy. Everyone comments on how lovely they look. They are also super comfortable."

What is the best way to see Phoebe Grace and get in touch?
Email on hello@phoebe-grace.co.uk
DM us on instagram (@its_phoebegrace)
Website  - https://phoebe-grace.co.uk/
We shot Janet at her studio on Peckham Rye. This is part of our new In The Frame feature - our monthly feature of inspiring individuals. Shot on 30th January 2020 and published on 14th February 2020.