#adapt and create: Creativity at home
In the beginning of 2020 we had been making plans for an exciting photoshoot for our whole collection. This is something that we've never done before, simply because we've never been able to put enough time and budget towards the photoshoot of our dreams.
Fortunately, we've been really lucky in collaborating with other brands in collective photoshoots or working with brand ambassadors to create content in a more collaborative approach. We really appreciate it when influencers agree to accept a gift from us - it means they appreciate what we're doing and that we are a growing brand trying to make our way. This is what you have to do as a start up, find ways to work together and learn from the ups and downs along the way.
For three years we've been growing and developing, and during that time the mood board of our dream photoshoot was coming into existence. It makes me excited just typing this... we'd chosen our top three places to shoot (keeping these a secret), people to work with and we were ready to let our products shine! This was all planned for the first week of April - the (original) planned week of our photoshoot and the launch date of our Kallio frame shape in our new conscious materials.
Our plans changed
In late February we started to see that Italy was beginning to feel the restraints of COVID-19 on normal lifestyle. We were keeping a close eye on what was happening whilst businesses began to close and restrictions we're being put in place.
We've gotten to know some amazing people in Italy in the four years since we started making there and we kept checking on our friends to see how things were progressing. Thankfully those in our community are still safe. Our frame workshop is situated in the Dolomite Mountains of Veneto, Northern Italy, and we keep in close contact with Costantino, Dora and Sandro (the family that own and run the workshop) on how they and their small team of makers are doing.
"Everything is good." Sandro and I talk through Skype regularly and he assured me that they were lucky. ⁠As a team of around 10 - they have had to reduce the number of workers on site ensuring that they have all the necessary precautions and equipment to keep working safely, but there were only single figures of cases in their local area.
GOOD NEWS
On March the 7th we received an email from Sandro that our new batch of our Kallio frames was almost finished, but there was one component that was not yet ready - the lenses. Our lenses are sourced from a factory who produce exclusively in high performance mineral glass which is what we use for all of our sunglasses from now on. They fit lenses only when a complete batches of frames is finished and measured so that there is no excess raw material sourced, no overproduction and and thus no waste.
But before we could begin fitting our lenses, we received an email from our glass lens supplier - they had closed their doors until further notice and would be spending the last few weeks deep cleaning and disinfecting everything ready for when they re-open again.
The timeline was on pause and ⁠we realised that the UK might be heading in the same direction.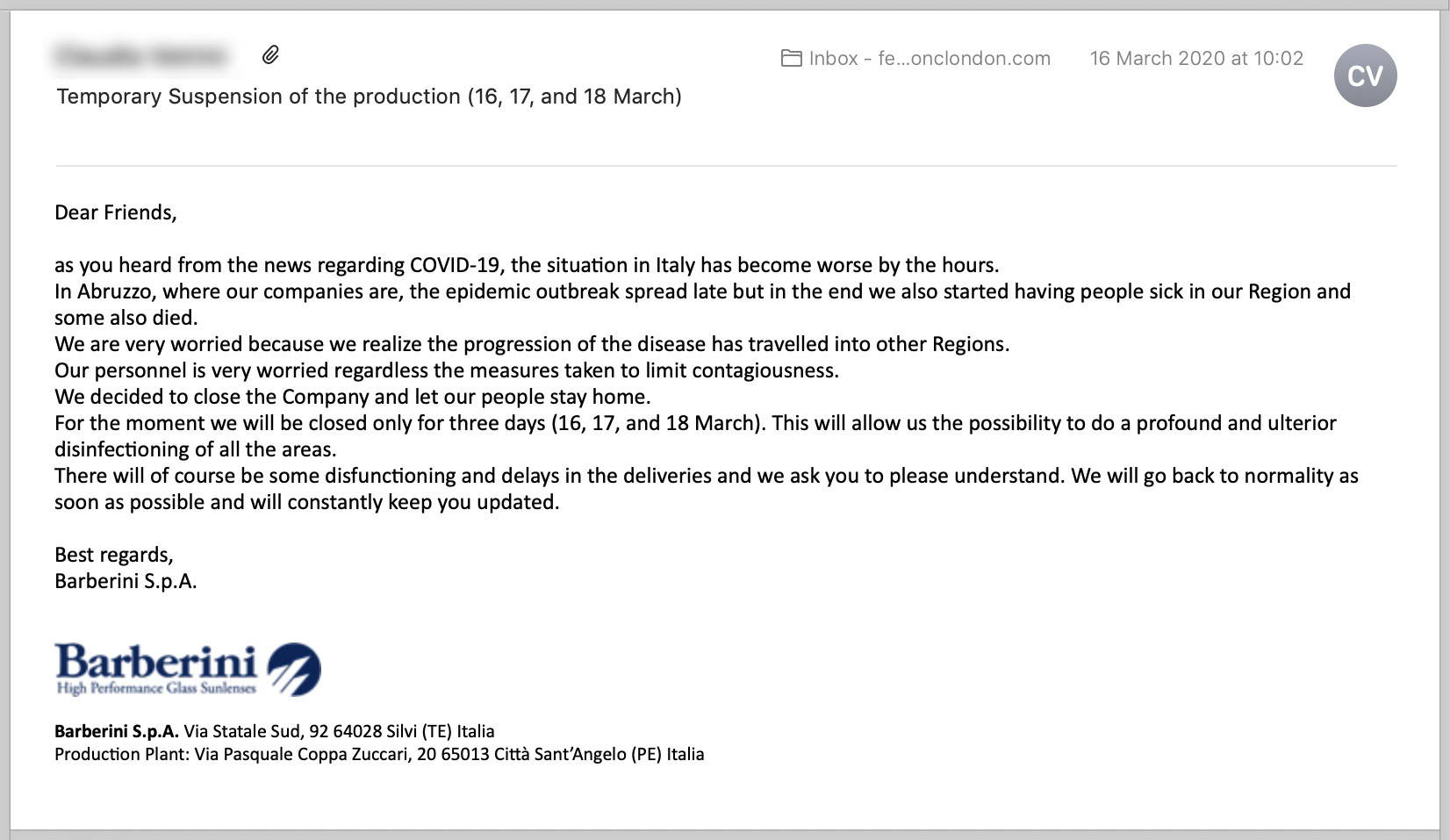 Adapting, pivoting, changing
On March 20th we made the call - we would start preparing to work from home, just in case the situation got worse. Working from home means changing where we keep our stock, pack our orders and manage shipping to and from our customers. Thankfully, one of the benefits of doing everything in-house means that we can literally pivot to 'in house' distribution provided that we have the stock and precautions in place. So, we packed up a Zipvan and moved enough stock to last for a few weeks. We even brought our monogramming machine safely home to keep personalisation going during lockdown.
On March 23rd the UK Government announced that we would be put on lockdown. This was the moment we had to quickly adapt from our normal day to day to a WFH business model. We had to pause our Home Try-On and Prescription services and prepared for weeks of isolation ahead.
The next week was spent emailing customers mid-order asking if they wanted a refund or were happy to continue to wait until shops were open again. Home Try-On orders that were out with customers, we organised DPD drivers to collect their orders safely from their front porch without making any contact. We're extremely grateful to everyone at DPD for what they do for our community and the precautions they're are taking to keep businesses going during this time.
And just like that our photoshoot, that we'd been so excited about, was officially cancelled. So, it was time for a rethink. 
We still needed new imagery, we still wanted to showcase our sunglasses as summer started to come into view, so we asked ourselves how we could do that whilst on lockdown? 
The answer: think differently
And that's how our Adapt and Create idea started. We realised that there was no point in feeling sorry for ourselves or thinking about what could have been. We needed to adapt to our new circumstances and get creative from home.
We have always counted ourselves lucky to have such an inspiring and engaged community around us. And we realised that we wanted that community to be involved with whatever we decided to do. Our glasses designs are rooted in creativity and individuality so we wanted to collaborate with those who shared and embodied those values. 
With that in mind, we asked a group of people who truly inspire us on a day to day basis to join us in our #adaptandcreate campaign. We asked them to shoot their favourite pair of our sunglasses at home whilst also showing us how they were getting creative during lockdown. We asked them a few questions about creativity and what it means to them. 
The aim of the campaign was to think differently and appreciate the opportunity a lockdown has given us. We want to take this opportunity to inspire you to carry on creating and to emphasise the importance of creativity when times are tough.
You can see our interviews here:
GIVING BACK TO OUR COMMUNITY, AS A COMMUNITY
Through #adaptandcreate we are not just aiming to inspire more creativity within the home, but we're also trying to continue to grow as a brand during a time when we are restricted in so many ways. Whilst doing so we are trying to give as much back as we can to people who need it the most. Which is why 20% of all our revenue is currently going to the British Red Cross. 
We hope that through #adaptandcreate we can inspire you to express new ways of creativity at home as well as to help us support the British Red Cross. 
Don't forget to share your #adaptandcreate moments with us on Instagram.